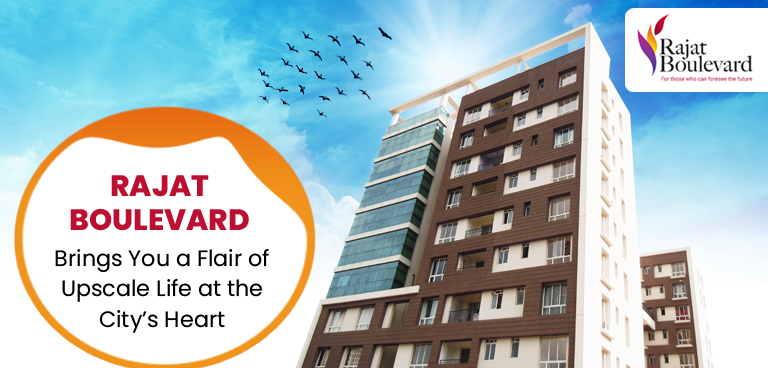 Rajat Boulevard Brings You a Flair of Upscale Life at the City's Heart
Posted On Mar 25, 2020 by Rajat Homes
An upscale lifestyle is no more about spacious living rooms and beautiful balconies. For Maitreyee, a 26-year-old investment banker, it's more about a home that establishes fine balance between functionality, panache, and aesthetics. The resident of Rajat Boulevard, a luxury property in Tangra has quoted that since beginning she was looking for a residential apartment that would bring her three C's (comfort, convenience, and connectivity) on the same plane. And, from that perspective, her Boulevard home perfectly fits the bill.
Maitreyee says, at her Boulevard home magnificence is a norm, something she has been yearning for years. It's a home that adds value to her lifestyle and lets her bask in optimum sophistication. Here's how her lifestyle home offers everything she had nurtured in her dreams.
A Strategic Location with Excellent Connectivity
The residential apartment of Rajat Boulevard is nestled in the posh neighborhood of Topsia, thus keeping residents close to conveniences. Within a stretch of 5 kilometers, there are popular schools, shopping malls, entertainment hubs, and all kinds of lifestyle destinations that you could ever ask for. Pretty close to EM bypass, the residence also provides a straightforward access to the IT hub of Kolkata. Also, you can access the southern nooks of the city without much.
Fine Living With Uber-stylish Aesthetics
Designed for 54 select families, Rajat Boulevard features a soaring G+9 tower with refined architecture, glass-clad exteriors and south open apartments. Offering the mesmerizing view of the sky's crimson hues, the Boulevard residence is thoughtfully curated for breezy evenings and sun kissed mornings. With a bevy of facilities and amenities, these are designed for evolving urban lifestyle.
Safe Life Within Secured Haven
When it comes to security, your Boulevard home offers a shelter, where your safety is never compromised. Featured with 24/7 CCTV camera and guards on the gates, each of the living units here are equipped with Video door phones. Thus, it eliminates the risk of strangers encroaching inside. Alongside, the building is fitted with fire safety features, which cuts down the chances of accidental circumstances.
Lifestyle That Pronounces Luxury
offering a plush gymnasium, multipurpose halls to safe and secured kids' zone, spacious parking lot, your Boulevard home gifts you an improved convenience quotient.
In short, each and every nooks of Boulevard residence is designed to bring in a semblance of class and functionality. The idea is to provide a feast of mind, body, and soul.