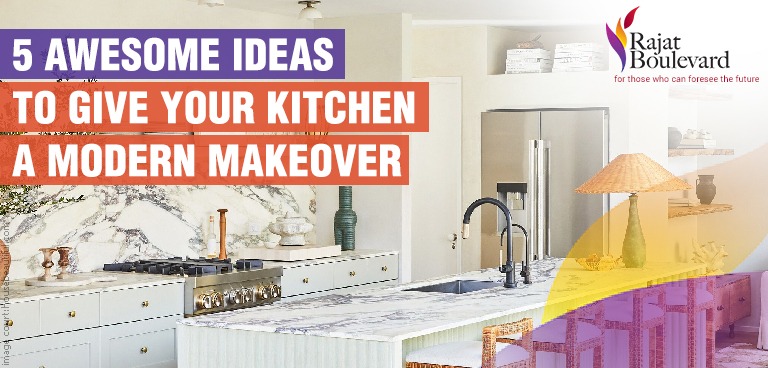 5 Awesome Ideas To Give Your Kitchen A Modern Makeover
Posted On Aug 20, 2020 by Rajat Homes
When you talk about giving your home a fresh makeover, that includes your kitchen too. It is one of the most used spaces of a home where you lovingly prepare family meals, bake birthday cakes or share some fun moments with your closed ones. Pictures of pretty kitchens often lure you to give this most functional yet most ignored part of the home a chic makeover but you continue to postpone the plan thinking of time and budget.
Thanks to the prolonged lockdown, we have some extra time at hand. As eating out is not a smart thing to do, we are making lavish meals at home. Children getting bored without any outdoor activities are pleading for different meals and eventually, mothers are feeling overwhelmed to satisfy their demands. In such a scenario, kitchens have become a too important part of a home. If you are thinking about redecorating your kitchen, the first and foremost thing you have to take care is functionality. A modern kitchen looks pretty and organized and where you can work smoothly. Let's see how you can give your kitchen a modern makeover that too, within a strict budget:
Organize like a pro:
First thing first, transform your kitchen into a space that is clutter-free and gorgeous with the proper shelving, functional storage, and a thought-out plan of attack. If you always feel like you don't have enough storage in the kitchen despite tons of drawers and cabinets, you need to change the way of storing things. Start with doing a deep clean of your refrigerator and cabinets. Store utensils in a cutlery tray so that you don't have to dig through the tangle of tools to find the right one. Install hooks to hang the coffee mugs and pot racks to organize all those pans taking up space in your cabinets. Keep all your spices together in a drawer rack or cabinet and don't forget to utilize the inside of your cabinet doors as they are filled with storage possibilities.
Take care of metals & fixtures:
Modern metals in kitchen design include matte aluminium, stainless steel or copper that might give you the best looking interiors that you can imagine. Rajat Boulevard is offering 4 BHK flats for sale near Park Circus where the kitchen specifications include granite top cooking platform with stainless steel sink with ceramic tiles, 2 ft high above the cooking platform. They are classic, stain proof and easy to maintain. Incorporating wooden fixtures or wooden countertops is a good idea as they are long-lasting and can give your kitchen a natural touch while steel finish is perfect for making your kitchen look more professional.
Have suitable appliances:
Update old appliances and make sure they are energy efficient. As we are realizing the importance of reducing our carbon footprint, modern appliances focus on energy efficiency. The appliances must save your money and improve functionality as well as the overall look of the space. Replace your plumbing fixture and go for low-flow kitchen faucets as they save a lot of water.
Incorporate proper lighting:
The kitchen must be properly lit. Proper lighting is very essential for the safety, ambience, and versatility of your kitchen. Proper ambient lighting is a must for kitchen, but for a modern touch go for some layered lighting. Consider installing a dimmer switch for versatility and recessed lighting for complementing the overall ambience. Pendant lighting over kitchen islands or elegant chandeliers are great decorative lighting options for a modern kitchen.
Add decorative elements:
Just because it's a kitchen, doesn't mean it should be dull and boring. What is the first thing you notice while walking into the kitchen? If you don't like it, change it. Create a bold and unique focal point using vibrant wallpaper or hanging a large piece of art. Quirky baskets or vintage dishes can make boring walls look elegant. You can personalize your kitchen wall with chalkboard which can be an interesting addition. Breathe life into your kitchen by keeping some fresh flowers.