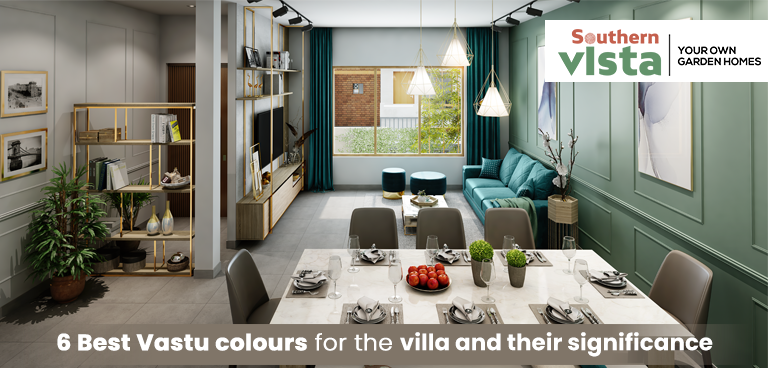 6 Best Vastu colours for the villa and their significance
Posted On Apr 20, 2022 by Rajat Homes
Do you have trouble deciding which colours to use in your villa's various rooms? We make it much easier for you by determining the optimal colours for each room of your bungalow based on Vastu principles. Distinct rooms demand different colours, since the objective of the room and the colouring of the room must be in sync. This blog explores the best Vastu colours for your home, as well as their significance.
With several fantastic suggestions to choose from, picking the appropriate colour for your study area or any other room according to Vastu will be a breeze. The importance of colours according to Vastu laws is crucial for bringing wealth into your life. As a result, make sure you carefully follow the instructions.
● Yellow is an excellent choice for your study area.
Bright yellow can be an exceptional choice for your study room. This colour's brightness will undoubtedly aid your kids in their academics. You can make the space more appealing by adding a comfortable study table and chair, along with some colourful literature. Finally, a table clock can complete the ensemble.
● White is the best colour for a bedroom, according to Vastu.
White is the optimum colour for a bedroom, according to Vastu. White is a calming colour, so it can help you sleep better. If you use white pillows and a white bed in the bedroom, you will be able to create an incredibly stunning style and decor.
● Bedroom with light blue walls
Light blue is the greatest colour for a bedroom according to Vastu, therefore you can easily paint the walls. It can produce a peaceful environment in which to sleep. The room might feature a white bed because of the white floorboards. You can also put a little bedside table there with your favourite magazine.
● Pink bedroom wall with vertical design
Pink is a beautiful colour that can easily accentuate the elegance of your bedroom. The pink walls may provide a very relaxing atmosphere as you sleep. According to Vastu, the white floor and two white lamps in this room can be a fantastic complement for your bed.
● A Vastu-compliant pure white pooja room
White is a soothing and benign colour that can be used to design your pooja room. White is the best colour for a pooja room, according to Vastu, because it produces a serene and reverent mood. To get all you want in life, pray with a calm mind.
● Sky blue colour kitchen walls
According to Vastu, sky blue is the best colour for kitchens. It can truly enhance the beauty of your cooking space. The shade of blue might help you to have a cool and collected head while working in the kitchen for longer periods. A study cabinet to store culinary supplies can give your kitchen a polished appearance.
Shalini Sengupta, an interior designer by profession, recently purchased one of Southern Vista's premium homes near Narendrapur. She chose the colour blue depending on Vastu to enhance the beauty of her kitchen.