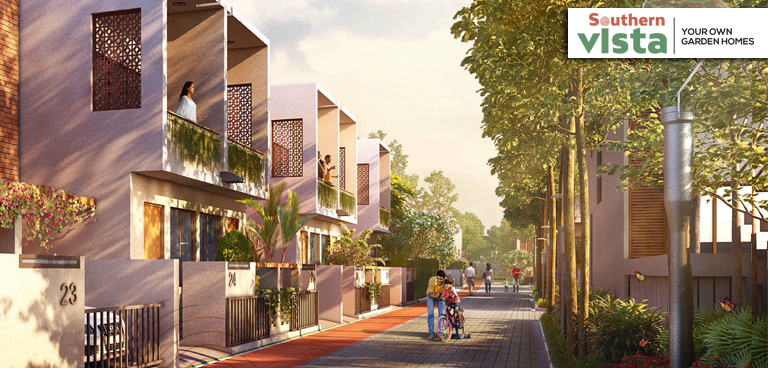 A premium lifestyle awaits you at the luxury row bungalows on Southern Bypass
Posted On Mar 16, 2021 by Rajat Homes
The concept of Row Bungalows dates back to the 16th century when wealthy landlords used to live in countryside and move into their luxury abode in city during festive season. With increasing population and land values, vertical construction or high-density apartment developments became more prominent for metro cities. Today, row houses are altering the landscape of residential real estate by redefining luxury within the financial reach of a large buyer segment. Row bungalows provide a sense of independence with the benefits of community living.
Southern Vista offers luxury row bungalows near Rajpur that will strike a balance between convenience of a premium lifestyle and affordability. Enjoy privacy in your own private garden or get connected with your neighbours in the multi-activity zone – it's your choice. Owning a 4BHK luxury house on Southern Bypass will not only complement your social status but will also provide the highest value for money which will make it a great investment.
How are row houses redefining luxury?
Southern Vista is a premium project of Southern Bypass that is well-connected to the city yet lets you enjoy the tranquillity of nature. The uniform plan and architecture of the row houses in a lane will bring in old-world charm with a new-age design. Every house will have its own terrace, balcony & private garden, promising peace and privacy.
Row houses are always having more – more space and more comfort. You can enjoy the multi-storey home all by yourself where you can have your bedrooms separate from your home-office space or your living room away from your children's study room.
Considering row houses as independent properties, there is much scope for freedom to host private parties or gatherings where guests will not be a reason of bother for the neighbourhoods. You can also consider sipping the evening tea while relaxing with your loved one in the terrace after a busy, hectic day.
Security is the biggest advantage of row houses that set them apart from individual properties. Safe entries with 24×7 security post along with CCTV surveillance at the main entrance and common areas, installation of boom barrier on the main gate, intercom connectivity and quality IP video door phone within every row bungalow – all contribute to make Southern Vista a favourable option.
Row houses usually have a lot of open space. Southern Vista is designed to have 60% open space that will give the residents more access to nature. Surrounding yourself with soothing greenery and the chirping of birds will always affect your physical and mental health positively. You can also have a kitchen garden where you can grow your own vegetables or set up a floral garden in your backyard to soothe your senses every day.
The outdoor play area at Southern Vista will offer a great environment for children to grow up and enjoy the simple joys of life. Personalised as well as common open spaces promote enthusiasm and interest for outdoor activities among children.
In apartments, people often face objections from neighbours for having a pet. In row houses, you will not have such a problem. You can even make your pet a little kennel to live in.
So overall, investing in a row house can provide you with the best value for money as you get the twin benefit of living in an independent house with the convenience of an apartment. At Southern Vista, indulge in a world of comfort and luxury with the presence of world-class amenities along with enjoying the privacy and freedom of an independent house.