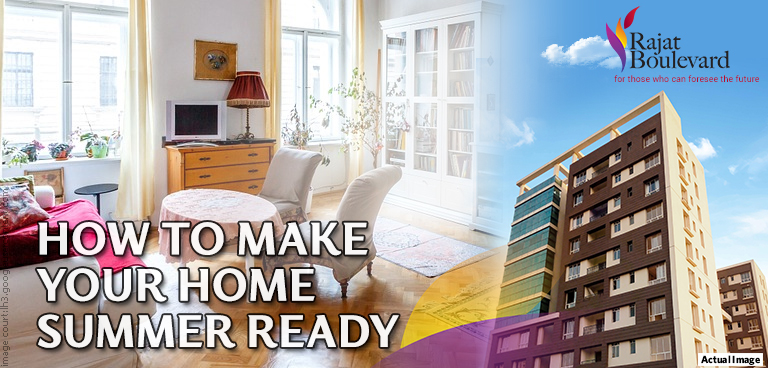 How To Make Your Home Summer Ready
Posted On May 12, 2020 by indusnet
Spring, the season of rejuvenation has bid us adieu months back, and in the meantime sultry summer crept in to take on our nerves. With temperature soaring high every single day, it's indeed the perfect time to prep your home for warm months. So, here we brought you some great ideas, straight from the designer's diary to help you notch up your summer home.
De-clutter to Make Your Home Summer Ready
"Clutter is the most visible problem in any home", says Mrs. Aruna Desai, a resident of Rajat Boulevard, a luxury residential complex near Science City. For her, clutter creates space crunch and prevents air to pass on. Also, such a space absorbs heat which is the last thing you would want during this summer. So, the first step is to lighten your home by removing unwanted items. Piles of old newspapers and magazines, too many pieces of furniture, tons of curios can be messy. To invite summer vibe in her plush apartment, Aruna simply stashed away the heavy pieces as early as possible.
Pick Lighter Fabrics for Your Draperies and Upholstery
An interior designer by profession, Aruna is pretty familiar with the way sheer draperies perk up the décor drama. Heavy rugs and carpets absorb heat. So is true for synthetic and satin upholstery. During summer months, allow your silk and satin draperies a short break and switch to natural fibres like cotton or jute. For a rustic touch, replace the carpets with durries. Use cotton curtains for a tranquil look. Khus Khus mats are great for an extra cooling effect.
Pastels Are the Summer Palette
One of the best ways to notch up the summer vibe is to bring in the warm hues into your home. Paint your walls with the brightest shades of green and blue, lilac, ivory, olive. You can go for the textured paint as well. To match with the wall, opt for bright prints in natural fabrics like cotton,
linen, jute, for bed, sofa and curtain. Make sure that whatever you choose should be appropriate for the humid summers.
Swap the Cushions
This is the easiest way to put your home in the perfect summer mood. Cheerful and vibrant throw pillows will instantly revitalise the most jaded of couches and rooms, believes the owner of a 4 BHK luxury apartment near Sealdah.
Add Some Greens to Your Living Space
There's nothing like a green makeover to your living space, especially in the summers. Indoor gardening can give you a fresh breath of air and keep your interiors cool and breezy. You can also opt for container gardening right inside your living room and balcony to bring in a summery vibe.
Make Sure Your Appliances Are Summer-Ready
A close check up on your air-conditioner, inverter and voltage stabiliser is necessary even before you start using them on a regular basis. Also, ask the experts for providing you maintenance services for your air conditioners during summer.
Most of the time we choose to have a seasonal twist to our wardrobe while ignoring the living space. But, doing a bit for home can make this peaceful sanctuary an abode of happiness where you would love to curl up to soothe your sore nerves. Take cue from these cool tips and make your home perfectly summer ready.