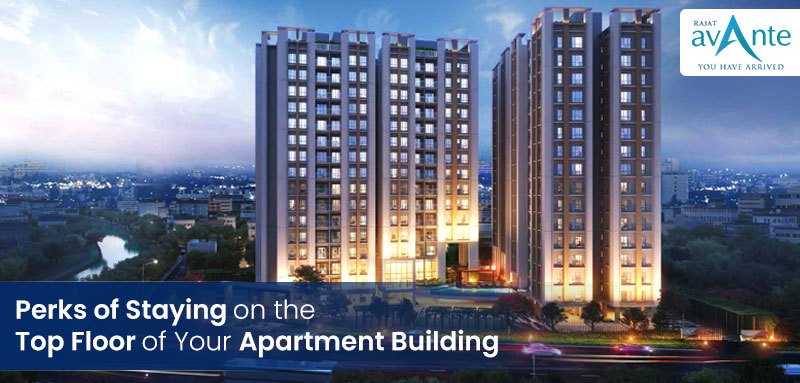 Perks of Staying on the Top Floor of Your Apartment Building
Posted On Jan 5, 2020 by Rajat Homes
The evolving needs of Indian homebuyers have brought quite a change in their purchasing preferences over the past few years. Spacious rooms with large balconies are no more a priority unless they are functional. New parameters have joined in the existing list of property selection criteria. With vertical living becoming the norm of the day, a group of buyers has emerged who are passionate about staying on top floors. Moreover, with skyscrapers emerging in the city, living on the top floors has become even more exciting.
Modern homebuyers evaluate their home buying decision with a variety of parameters, and top floor living is one of them. But, did you ever wonder why there's a surging preference for top-floor living? Well, we bring together the perks of staying on the highest floor of a residential complex.
Uninterrupted View ofthe Skyline
Enjoying the exclusive and uninterrupted view of the city's skyline is one of the biggest perks of staying on the top floor. "Having a clear view of your city from your balcony on lazy afternoons can be the best experience ever" believes the owner of the tallest residential tower near Joka metro. It's like going for a serene retreat every day.
Better Air Quality
As you move to the higher floors, you find lesser dust and debris clogged in the. Also, on the top floors you get better ventilation and your home remains breezy round the clock.
Enjoy Unrestrained Privacy
Staying on the top floor of the apartment building can help you enjoy unrestrained privacy with least disturbance. It keeps you away from a lot of foot traffic in your building. Secondly, none of your neighbours can peep through your windows, thus giving you exclusive privacy from all aspects. Additionally, many top floor units also come with a private access to the building's roof deck.
Access to More Sunlight
Top floors of any residential apartments are likely to get more sunlight and air than the other floors. As a result, these apartments look naturally lit and ventilated. The entire home gets ample sunlight, which enhances the aesthetic elegance of the interiors.
And, if you are still not convinced, then you should know that top-floor apartments are considered comparatively safer than the lower floors from the potential threats of casual break-ins and thefts.