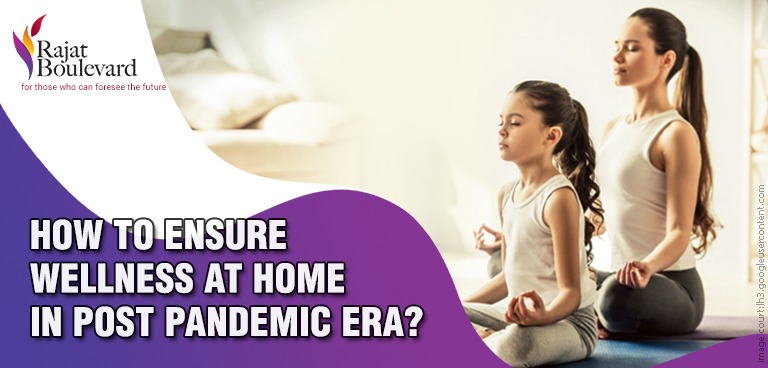 How to Ensure Wellness at Home in Post Pandemic Era?
Posted On Sep 22, 2020 by Rajat Homes
"Build well to live well" – architects and engineers were trying to educate owners and developers on the wellness impacts of sustainable building design over the last decades but paying any heed to it was a far cry. However, the global pandemic changed the dynamics of how we live and wellness is about to become one of the latest buzzwords in housing. It is not only a value-addition to the building but rather a necessary element for a healthier living. Most of our illness is a result of sedentary lifestyles and lack of exercise, poor diet, stress, pollution, loneliness and alienation. Environmental and behavioural conditions often trigger chronic diseases. So, your home design has the potential to improve health, mind and well-being.
Spread over 40 Cottahs, Rajat Boulevard is a residential complex near science city which is designed to assure wellness to its residents. It is one of the best residential projects near EM bypass offering modern building designs as an approach to create healthier and more productive lives for its occupants. The premium apartments are designed for evolving lifestyles that you would proudly pass on to the next generation.
But how should you ensure wellness at your home? Let's find out:
Allow effective ventilation:
Though lockdown is lifted, we are still spending most of our time indoors. Indoor air is generally 2 to 5 times more polluted than outdoor air. Confined areas without proper ventilation can cause the build-up of viruses and bacteria which you must get rid of. Air purifying systems can eliminate airborne pollens and dust particles. Mechanical air handling systems can supply fresh oxygenated air to indoor spaces and exhaust a host of harmful compounds like volatile organic compounds (VOCs) from the air. Well-designed south open apartments at Rajat Boulevard ensure breezy living and minimize the spread of the virus.
Get rid of toxic substances:
Toxic building materials can affect our health in a negative way. Proper flooring, paints and even drywall can improve air quality. Opt for paints that contain no VOCs. Minimized VOC emissions in a residential apartment can significantly improve cognition and you will be more productive. Eliminating formaldehyde can reduce asthma symptoms. Toxicants impact the health of the respiratory, neurological, endocrine or other systems of the human body. Avoid Teflon cookware, ditch the dryer sheets, go for non-toxic brands for a toxin-free home. There are products to protect you against moisture and make your home dry, clean, pest-free, and contaminant-free. Well ventilated and thermally controlled homes are less prone to provide shelter to virus and bacteria.
Let in natural light:
Windows that provide maximum views and allow natural sunshine and airflow are perfect to ensure wellness in your home. At Rajat Boulevard, the standard section aluminium sliding windows with glass insert in each shutter will allow maximum natural light into your home which is an important mood and productivity booster. There are several health benefits of natural light, such as – it boosts vitamin D, wards off seasonal depression, improves sleep, reduces health hazards caused by fluorescent lighting and so on.
Incorporate fitness zone:
Regular workout is necessary to reduce the risk of chronic diseases including heart disease, diabetes, many types of cancer and musculoskeletal diseases such as arthritis or osteoporosis. Our lifestyle and food habits often lead us to obesity and different types of complications. That's why gymnasiums are common in apartment complexes. But during the pandemic, when social distancing is so important to stay safe, working out regularly at the gym is not a good idea. So, design your home in such a way so that you can incorporate a dedicated fitness zone in it to stay fit and healthy. The spacious luxury apartments at Rajat Boulevard will easily allow you to carve out a corner for your fitness regime.
General ideas:
There are small design changes that can assure wellness and safety in your home. Arrange an entryway seating and encourage people to sit down and take their shoes off to prevent bacteria from getting past the entryway. Design your kitchen that encourages healthy eating. Have multiple counter space which will allow you to prepare meals without moving too much. The flooring should be easy to clean in all the rooms. Bathrooms have the most injury potential. From shower or bathtub to flooring – ensuring safety is a must. At Rajat Boulevard, antiskid ceramic tiles on floor and designer ceramic tiles on walls up to door height assure safety as well as aesthetics.