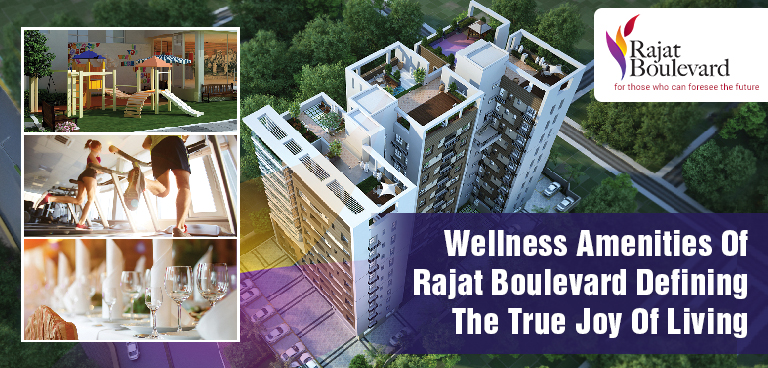 Wellness Amenities Of Rajat Boulevard Defining The True Joy Of Living
Posted On Apr 17, 2020 by Rajat Homes
The definition of 'fine living' might be apparent, but don't we all long for a home where we will feel alive and live a life wrapped in comfort and extravaganza? As premium apartments cropping up in the prime neighbourhoods of Kolkata, homeowners are aspiring for the best and luxurious amenities to support their lifestyle needs and ensure the well being of the residents. When it comes to wellness amenities, Rajat Boulevard, the premium residential apartment in Tangra, allows the residents to maintain work-life balance and improve well being.
The conveniences and unique lifestyle amenities of this residential project near EM bypass offer a peaceful coexistence of traditional and modern living. A luxurious lifestyle is not anymore about glitz and glamour but something more permanent. Breathtaking views and jaw-dropping interiors are fine as long as the property offers the residents a more holistic state of being where one's mental, physical and emotional health are in sync. The health and wellness facilities in a property are more valuable for homeowners than the contemporary luxury amenities. Keeping pace with the evolving demand of our dear customers,  Rajat Boulevard has incorporated amenities that ensure the 'true joy of living' for its residents.
1. South-open apartments:
The interiors of Rajat Boulevard blends fine aboriginal architecture with contemporary design. The South open apartments will bestow you with sunshine and soothing breeze in abundance. Allowing the maximum amount of natural light in your home result in reducing blood pressure, stress, anxiety and even boosting the immune system. Basking in the rays of the sun provides energy and make you feel happy and well-rested. In summer evenings, let the cool breeze enter through the window and caress your cheeks, leaving you feeling refreshed. If gardening is your passion, South-facing apartments are generally better for growing a bigger range of plants and flowers, although the soil will usually be drier so you'll need to do more watering too.
2. Open space:
For residential projects, open spaces are like the pockets of greenery that add a bit of nature to our concrete jungles. The landscaped garden and play area at Boulevard is the perfect place to enjoy fresh crispy mornings while meditating or doing pranayama. The open spaces have exquisite effects on both physical and mental well being. Increase physical activity by walking along the tree-lined pathways after lunch or a leisurely barefoot stroll on grass in the evening.
3. Gymnasium:
Looking good and feeling good is now the priority of the millennial home buyers. For that, eating healthy, exercising regularly and monitoring fitness quotient have become a lifestyle choice. Hitting the gym outside after long hours at work exhausts many people and they eventually fail to reach their fitness goals. With a gymnasium within apartment premises, you will no longer have an excuse to skip your workout. Besides, you are likely to find yourself in the gym with other residents who keep your workout schedule and this can keep you on your toes when it comes to showing up for your workout sessions.
4. Kids Play Area:
Surrounded by gadgets and raised in nuclear families, kids these days hardly have any social life. The younger generation is now mostly addicted to indoor activities, that can not only result in adverse physical issues but also impacts the mental growth. The kids play area at
Rajat Boulevard will allow your child to break free from the confinement and constraint of four walls and trigger more enthusiasm within them. The kids will naturally come out of their nutshells and be more social. The play area will also help them to burn off extra energy and calories enhancing their overall growth.