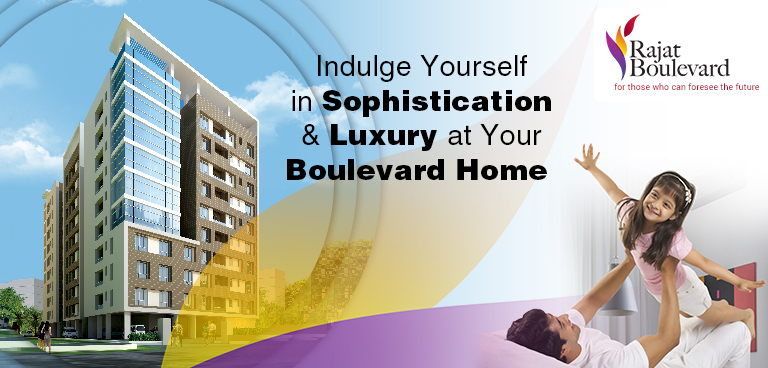 Indulge Yourself in Sophistication & Luxury at Your Boulevard Home
Posted On Apr 10, 2020 by indusnet
From a well-equipped gymnasium to top-notch video phone facility, the list will go on, but these plush conveniences are not offered by any five star hospitality giant. These swanky features are some of the regular amenities that luxury residences like Rajat Boulevard offer.
Rajat Boulevard: A Plush Address at Topsia
Offering a premium address with a bevy of comfort amenities, Rajat Boulevard brings you 2, 3, and 4 BHK luxury apartments near Science city. Sprawling over 40 Cottahs, it is an ultra-modern residential address exclusively designed to accommodate 54 select families. Featuring classy and subtle architecture, coupled with glass-clad exteriors, the G+9 Boulevard certainly captivates you. Besides splendid aesthetics, the complex brings you south open apartments beckoning the breezy evenings during sultry summer. Designed in accordance with the taste of urban consumers, its facilities and amenities comfortably cater to the evolving urban lifestyle.
At Rajat Boulevard Magnificence is the Norm
The shifting dynamics of the needs and preferences of the homebuyers are gaining euphoric prominence lately. Urban consumers are more focused on experiencing world-class living, and it means lot more than merely square foot.
So, how did the trend start? Just a decade ago, a swimming pool in an apartment complex was a benchmark of plush living. All the premium address in the city come with a swimming pool. But, in the recent times, a swimming pool is just one of the many features. High-end complexes like Rajat Boulevard offer ultra-luxury amenities like exclusive kids play area, state-of-the-art gymnasium, fire safety, as well as video door phone, and many more.
Following a hike in purchasing capability, city-based consumers are willing to spend more on exclusivity, aesthetic charm, and lifestyle amenities and facilities. No wonder, developers are coming up with upscale projects like Boulevard where magnificence is none but a norm. The new avenues of luxury here offer residents enough opportunity to soak in sophistication.
Make the Most of Your Living Space at Boulevard
The concept of classy living involves healthy living as well. And the lavish Boulevard home gives you that too. The vast open space and the verdant green landscape is quite a visual charm. With the shrinking greenery in the city, such an ambiance in the residential complex is making way to the preference parameters of the urban consumers. An open space not only offers respite from the noise and dins of the city, but also aids in the physical and psychological well-being of the residents.
Your Boulevard Home Offers you "Nothing But the Best"
In the 21 st century, homebuyers are becoming way too demanding. Beyond square feet and aesthetics, people are more focused on quality of living that the residences like Rajat Boulevard are offering. Finest build, flawless finishes, custom-made materials, and above all a high levels of safety are among the highest priorities of a modern homebuyer and from that perspective your Boulevard home is certainly a winning choice.